Meine Buchnotizen – Who: The A Method for Hiring von Geoff Smart
Personalentscheidungen sind sehr schwer und kostspielig. In ihrem Buch "Who: The A Method for Hiring" stellen Geoff Smart und Randy Street eine Methode vor, mit der Sie A-Mitarbeiter rekrutieren. Ein Must-Read für Manager.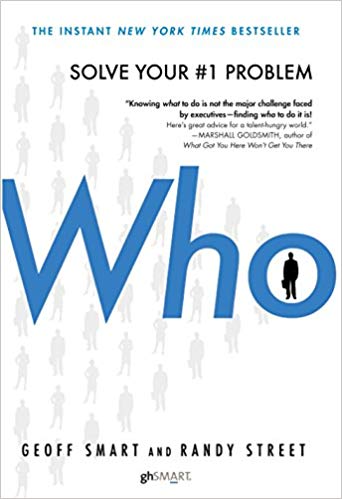 Gelesen im Juli 2017. Auf der Amazon Seite finden Sie mehr Details und Rezensionen. Wenn Sie es nicht so mit dem Lesen haben, empfehle ich Ihnen Audible auszuprobieren. Audible ist im ersten Monat kostenlos und Sie können dort fast alle Bücher auch als Hörbuch hören. Ich will Audible nicht mehr missen.
The most important decisions that businesspeople make are not what decisions, but who decisions. Jim Collings, Author of Good to Great
Who is where the magic begins, or where the problems start.
Your success as a manager is simply the result of how good you are at hiring the people around you.
Who-mistakes happen when managers:
• Are unclear about what is needed in a job
• Have a weak flow of candidates
• Do not trust their ability to pick out the right candidate from a group of similar-looking candidates
• Lose candidates they really want to join their team
The average hiring mistake costs fifteen times an employee's base salary in hard costs and productivity loss.
Get the talent side of the equasion wrong and you will always face rough waters. You will spend all of your time dealing with an endless torrent of what issues. Get it right and you will have clear skies, smooth seas and easy sailing. The right who will take care of all of those issues.
If you think about competitive strategy, that strategy is not that differentiated bank versus bank. So the differentiation is in execution. And execution is determined by people.
Leaders spend as much as 60 percent of their time thinking about people.
What is a resume? It is a record of a person's career with all of the accomplishments embellished and all the failures removed.
Knowledge and ability to do the job are not the same thing.
Think of an A Player as the right superstar, a talented person who can do the job you need done, while fitting in with the culture of your company. We define an A Player this way: a candidate who has at least a 90 percent chance of achieving a set of outcomes that only the top 10 percent of possible candidates could achieve.
In business, you are who you hire. Hire C Players, and you will always lose to the competition. Hire B Players, and you might do okay, but you will never break out. Hire A Players, and life gets very interesting no matter what you are pursuing.
The CEOs of billion-dollar companies that we interviewed for this book recognize recruitment as one of their most important jobs.
Scorecard: The scorecard is a document that describes exactly what you want a person to accomplish in a role. It is not a job description, but rather a set of outcomes and competencies that define a job done well. By defining A performance for a role, the scorecard gives you a clear picture of what the person you seek needs to be able to accomplish.
Source: Finding great people is getting harder, but it is not impossible. Systematic sourcing before you have slots to fill ensures you have high-quality candidates waiting when you need them.
Select: Selecting talent in the A Method involves a series of structured interviews that allow you to gather the relevant facts about a person so you can rate your scorecard and make an informed hiring decision. These structured interviews break the voodoo hiring spell.
Sell: Once you identify people you want on your team through selection, you need to persuade them to join. Selling the right way ensures you avoid the biggest pitfalls that cause the very people you want the most to take their talents elsewhere.
Scorecard
Mission, Outcomes, Competencies
Scorecards describe the mission for the position, outcomes that must be accomplished, and competencies that fit with both the culture of the company and the role.
The first failure point of hiring is not being crystal clear about what you really want the person you hire to accomplish.
The scorecard is composed of three parts: the job's mission, outcomes, and competencies. Together, these three pieces describe A performance in the role—what a person must accomplish, and how.
The mission is an executive summary of the job's core purpose.
The mission for the VP of sales clearly captures why the role exists: to grow revenue through direct contacts with industrial customers.
Outcomes, the second part of a scorecard, describe what a person needs to accomplish in a role. Most of the jobs for which we hire have three to eight outcomes, ranked by order of importance.
Competencies define how you expect a new hire to operate in the fulfillment of the job and the achievement of the outcomes.
Critical Competencies for A Players
• Efficiency. Able to produce significant output with minimal wasted effort.
• Honesty/integrity. Does not cut corners ethically. Earns trust and maintains confidences. Does what is right, not just what is politically expedient. Speaks plainly and truthfully.
• Organization and planning. Plans, organizes, schedules, and budgets in an efficient, productive manner. Focuses on key priorities.
• Aggressiveness. Moves quickly and takes a forceful stand without being overly abrasive.
• Follow-through on commitments. Lives up to verbal and written agreements, regardless of personal cost.
• Intelligence. Learns quickly. Demonstrates ability to quickly and proficiently understand and absorb new information.
• Analytical skills. Able to structure and process qualitative or quantitative data and draw insightful conclusions from it. Exhibits a probing mind and achieves penetrating insights.
• Attention to detail. Does not let important details slip through the cracks or derail a project.
• Persistence. Demonstrates tenacity and willingness to go the distance to get something done.
• Proactivity. Acts without being told what to do. Brings new ideas to the company.
In addition, you might want to consider some of the following competencies. These are in unprioritized order:
• Ability to hire A Players (for managers). Sources, selects, and sells A Players to join a company.
• Ability to develop people (for managers). Coaches people in their current roles to improve performance, and prepares them for future roles.
• Flexibility / adaptability. Adjusts quickly to changing priorities and conditions. Copes effectively with complexity and change.
• Calm under pressure. Maintains stable performance when under heavy pressure or stress.
• Strategic thinking / visioning. Able to see and communicate the big picture in an inspiring way. Determines opportunities and threats through comprehensive analysis of current and future trends.
• Creativity / innovation. Generates new and innovative approaches to problems.
• Enthusiasm. Exhibits passion and excitement over work. Has a can – do attitude.
• Work ethic. Possesses a strong willingness to work hard and sometimes long hours to get the job done. Has a track record of working hard.
• High standards. Expects personal performance and team performance to be nothing short of the best.
• Listening skills. Lets others speak and seeks to understand their viewpoints.
• Openness to criticism and ideas. Often solicits feedback and reacts calmly to criticism or negative feedback.
• Communication. Speaks and writes clearly and articulately without being overly verbose or talkative. Maintains this standard in all forms of written communication, including e – mail.
• Teamwork. Reaches out to peers and cooperates with supervisors to establish an overall collaborative working relationship.
• Persuasion. Able to convince others to pursue a course of action.
Because every job has different requirements and every scorecard different outcomes, every set of competencies needs to be tailored to the position in question and the peculiar nature of the hiring institution. In practice, people can achieve the same outcome using two different approaches so we recommend that you do not create too narrow a competency list.
Job competencies are generally easier to list, but cultural fit is just as important.
Don't be afraid to write down what might seem blindingly evident. In the heat of a hiring crisis, the clearest things sometimes get overlooked. By translating your culture and values into a series of competencies that matter for every job, you can avoid making the mistake of not evaluating candidates for the cultural fits that are absolutely crucial to your enterprise.
Part of successful hiring means having the discipline to pass on talented people who are not a fit.
Scorecards are the guardians of your culture.
Key competencies for every role included specifically "treats people with respect" and "trustworthiness."
Sample Scorecard
Position 304
Mission for VP Sales
To double our revenue over three years by signing large profitable contracts with industrial customers. And to set up one hunting team to land new accounts and one farming team to grow existing accounts.
Ourcomes    /     Rating & Comments
Grow revenue from $25 million to $50 million by end of year three (25% annual growth)
• Increase number of national industrial customers from four in year one to eight in year two to ten in year three.
Increase EBITDA margin from 9% to 15% by end of year three.
• Increase fluffo-matic 70% margin add-on sales from 33% to 90% of all customer orders by end of year one
Topgrade the sales organizations by end of year one.
• Hire an A player Director of Outside Sales by end of year one
• Hire an A player Director of Inside Sales by end of year one
• Fire any sales rep who has not made quota by end of year one
Deliver monthly forecast reports that are 90% accurate.
Design and roll out sales training to all client-facing employees by end of year two.
How to create a scorecard
MISSION. Develop a short statement of one to five sentences that describes why a role exists. For example, "The mission for the customer service representative is to help customers resolve their questions and complaints with the highest level of courtesy possible."
OUTCOMES. Develop three to eight specific, objective outcomes that a person must accomplish to achieve an A performance. For example, "Improve customer satisfaction on a ten-point scale from 7.1 to 9.0 by December 31."
COMPETENCIES. Identify as many role-based competencies as you think appropriate to describe the behaviors someone must demonstrate to achieve the outcomes. Next, identify five to eight competencies that describe your culture and place those on every scorecard. For example, "Competencies include efficiency, honesty, high standards, and a customer service mentality."
ENSURE ALIGNMENT AND COMMUNICATE. Pressure-test your scorecard by comparing it with the business plan and scorecards of the people who will interface with the role. Ensure that there is consistency and alignment. Then share the scorecard with relevant parties, including peers and recruiters.
Source
Referrals, Recruiters, Researchers
The CEOs of billion-dollar companies that we interviewed for this book recognize recruitment as one of their most important jobs. They consider themselves chief recruiting officers and expect all of their managers to view their jobs the same way. They are always sourcing, always on the lookout for new talent, always identifying the who before a new hire is really needed.
Of all the ways to source candidates, the number one method is to ask for referrals from your personal and professional networks.
Whenever he meets somebody new, he asks this simple, powerful question: "Who are the most talented people you know that I should hire?" Talented people know talented people, and they're almost always glad to pass along one another's names.
Ryan captures those names on a list, and he makes a point of calling a few new people from his list every week. Then he stays in touch with those who seem to have the most promise.
We suspect that one of the first questions you get asked when you meet someone new is "What do you do?" Next time you answer that question (probably in the next week or two if our experience is any guide), follow up with "Say, now that I have told you what I do, who are the most talented people you know who could be a good fit for my company?"
As valuable as outside referrals are, in-house ones often provide better-targeted sourcing. After all, who knows your needs and culture better than the people who are already working for you?
It takes A Players to know A Players
Any size organization can achieve much the same effect by building internal sourcing into their employee scorecards. Try including something along the lines of "Source [number] A Player candidates per year," then reward the effort by providing a financial or other incentive such as extra vacation time for those who achieve and exceed the goal.
The final step in the sourcing process, the one that matters more than anything else you can do, is scheduling thirty minutes on your calendar every week to identify and nurture A Players. A standing meeting on Monday or Friday will keep you honest by forcing you to call the top talent on your radar screen.
The conversation does not have to be long. We frequently begin with something simple like, "Sue recommended that you and I connect. I understand you are great at what you do. I am always on the lookout for talented people and would love the chance to get to know you. Even if you are perfectly content in your current job, I'd love to introduce myself and hear about your career interests."
When you are done with the call, assuming you were even moderately impressed with what you heard, be sure to ask the key follow-up question: "Now that you know a little about me, who are the most talented people you know who might be a good fit for my company?"
Stay engaged: If you don't own the process, no one will. Talent is what you need. Focus and commitment will get you there.
How to source
REFERRALS FROM YOUR PROFESSIONAL AND PERSONAL NETWORKS. Create a list of the ten most talented people you know and commit to speaking with at least one of them per week for the next ten weeks. At the end of each conversation, ask, "Who are the most talented people you know?" Continue to build your list and continue to talk with at least one person per week.
REFERRALS FROM YOUR EMPLOYEES. Add sourcing as an outcome on every scorecard for your team. For example, "Source five A Players per year who pass our phone screen." Encourage your employees to ask people in their networks, "Who are the most talented people you know whom we should hire?" Offer a referral bonus.
DEPUTIZING FRIENDS OF THE FIRM. Consider offering a referral bounty to select friends of the firm. It could be as inexpensive as a gift certificate or as expensive as a significant cash bonus.
HIRING RECRUITERS. Use the method described in this book to identity and hire A Player recruiters. Build a scorecard for your recruiting needs, and hold the recruiters you hire accountable for the items on that scorecard. Invest time to ensure the recruiters understand your business and culture.
HIRING RESEARCHERS. Identify recruiting researchers whom you can hire on contract, using a scorecard to specify your requirements. Ensure they understand your business and culture.
SOURCING SYSTEMS. Create a system that (1) captures the names and contact information on everybody you source and (2) schedules weekly time on your calendar to follow up. Your solution can be as simple as a spreadsheet or as complex as a candidate tracking system integrated with your calendar.
Select
Screening interview, Who interview, Focused interview, Reference interview, Skill-Will Bull's Eye
The best and surest way we have found to select A Players is through a series of four interviews that build on each other.
Collectively, these interviews provide the facts you need to rate a person against the scorecard you have developed for the role.
The four interviews use the time to collect facts and data about somebody's performance track record that spans decades. The four interviews are:
• The screening interview
• The Who Interview®
• The focused interview
• The reference interview
The screening interview
The screening interview is a short, phone-based interview designed to clear out B and C Players from your roster of candidates. The goal here is to save time by eliminating people who are inappropriate for the position as quickly as possible. We recommend that you conduct the screening interview by phone and that you take no more than thirty minutes.
As with all the interviews we present with the A Method, we advocate a structured approach to screening interviews. This means following a common set of questions every time you screen somebody.
What are your career goals?
What are you really good at professionally? 
What are you not good at or not interested in doing professionally?
Who were your last five bosses, and how will they each rate your performance on a 1–10 scale when we talk to them?
What are your career goals?  It allows you to hear about a candidate's goals and passions before you taint the discussion with your own comments. You give the candidate the first word, rather than telling the person about the company so he or she can parrot back what you just said.
Ideally, a candidate will share career goals that match your company's needs. If he or she lacks goals or sounds like an echo of your own Web site, screen the person out.
You also want to hear the candidate speak with passion and energy about topics that are aligned with the role.
What are you really good at professionally? We suggest you push candidates to tell you eight to twelve positives so you can build a complete picture of their professional aptitude. Ask them to give you examples that will put their strengths into context. If they say they are decisive, press for an example of a time when this trait served them well, and remember, you are listening for strengths that match the job at hand. If you see a major gap between someone's strengths and your scorecard, screen that person out.
What are you not good at or not interested in doing professionally? If you hear cookie-cutter answers, simply say, "That sounds like a strength to me. What are you really not good at or not interested in doing?" Talented people will catch the hint and reconsider their responses. If you still find yourself struggling, we recommend that you put the fear of the reference check into the person. You say, "If you advance to the next step in our process, we will ask for your help in setting up some references with bosses, peers, and subordinates. Okay?" The candidate will say, "Okay." Then you say, "So I'm curious. What do you think they will say are some things you are not good at, or not interested in?" Now you'll get an honest and full answer.
Your balance sheet on a candidate will be incomplete if you can't identify at least five to eight areas where a person falls short, lacks interest, or doesn't want to operate. If you come up woefully short, if the weaknesses are all strengths in disguise, or if you see any deal killers relative to your scorecard, then screen the candidate out.
Who were your last five bosses, and how will they each rate your performance on a 1–10 scale when we talk to them?
Not "if we talk to them." When.
Follow up by pressing for details. What makes them think their boss would rate them a 7? Candidates will reinforce and expand upon the list of strengths and weaknesses they gave you in response to the first two questions.
You are looking for lots of 8's, 9's, and 10's in the ratings. Consider 7's neutral; 6's and below are actually bad.
We have found that people who give themselves a rating of 6 or lower are really saying 2.
If you hear too many 6's and below, screen them out, but be sure to really listen to what is being said.
Review the scorecard before the call to refresh your memory. Then begin the call by setting expectations, saying something like this: "I am really looking forward to our time together. Here's what I'd like to do. I'd like to spend the first twenty minutes of our call getting to know you. After that, I am happy to answer any questions you have so you can get to know us. Sound good?"
Conclude the call by offering the candidate an opportunity to ask questions of you. You'll be in a better position to sell the candidate on the virtues of your firm based on what you learned in the first twenty minutes of the call, assuming you liked what you heard. Otherwise, again, you can keep your answers short and collapse that part of the call.
After a candidate answers one of the primary questions above, get curious about the answer by asking a follow-up question that begins with "What," "How," or "Tell me more."
Keep using this framework until you are clear about what the person is really saying.
Sample questions include: What do you mean? What did that look like? What happened? What is a good example of that? What was your role? What did you do? What did your boss say? What were the results? What else? How did you do that? How did that go? How did you feel? How much money did you save? How did you deal with that?
When you have no idea what else to ask, just say, "Tell me more." They will keep talking. We promise.
The Who Interview®
Who Interview? It's a chronological walk-through of a person's career. You begin by asking about the highs and lows of a person's educational experience to gain insight into his or her background. Then you ask five simple questions, for each job in the past fifteen years, beginning with the earliest and working your way forward to the present day.
What were you hired to do?
What accomplishments are you most proud of?
What were some low points during that job?
Who were the people you worked with?
Specifically: 1.) What was your boss' name and how do you spell that? What was it like working with him/her? What will he/she tell me were your biggest strengths and areas for improvement? 2.) How would you rate the team you inherited on an A, B, C scale? What changes did you make? Did you hire anybody? Fire anybody? How would you rate the team when you left it on an A, B, C scale?
Why did you leave that job?
What were you hired to do? They might not know off the top of their head, so coach them by asking how they thought their success was measured in the role. Build a mental image of what their scorecard should have been. What were their mission and key outcomes? What competencies might have mattered?
What accomplishments are you most proud of?  We are always wary when a candidate's accomplishments seem to lack any correlation to the expectations of the job. Be sure to listen for that clue. A Players tend to talk about outcomes linked to expectations. B and C Players talk generally about events, people they met, or aspects of the job they liked without ever getting into results.
What were some low points during that job? Our recommendation is to reframe the question over and over until the candidate gets the message. "What went really wrong? What was your biggest mistake? What would you have done differently? What part of the job did you not like? In what ways were your peers stronger than you?" Don't let the candidate off the hook. Keep pushing until the candidate shares the lows.
Who were the people you worked with? Begin by asking candidates for their boss's name. Ask them to spell it for you, and make a point to show them you are writing it down. "John Smith, you say? That is S, M, I, T, H, right?" Forcing candidates to spell the name out no matter how common it might be sends a powerful message: you are going to call, so they should tell the truth.
What will Mr. Smith say were your biggest strengths and areas for improvement? Be sure to say will, not would. By asking "What will Mr. Smith say?" you are again signaling that this isn't a hypothetical question. You mean business.
Candidates quickly realize they have to tell you the truth because you are going to learn it from your reference calls anyway.
"What kind of feedback did he give you on your reviews?"
"What about informally? What did he tell you in passing?"
"Well, what do you think he told others when he talked about you behind your back in his office, maybe to the board?"
The second part of the fourth question—"How would you rate the team you inherited?"—is applicable to managers. You can ask, "When we speak with members of your team, what will they say were your biggest strengths and weaknesses as a manager?"
Why did you leave that job?
A Players are highly valued by their bosses. B and C Players often are not. It is an important piece of the puzzle to figure out if somebody decided to leave a job after being successful (an A Player clue) or whether he or she was pushed out of a job by a boss who did not value their contribution (a B or C Player clue). A Players perform well, and bosses express disappointment when they quit. B and C Players perform less well and are nudged out of their jobs or forcefully pushed out by their bosses. Don't accept vague answers. Get curious. Find out why, and stick with it until you have clear picture of what actually happened.
The Who Interview takes three hours on average to conduct. It might take five hours for CEOs of multibillion-dollar companies, or ninety minutes for entry-level positions.
For every hour you spend in the Who Interview, you'll save hundreds of hours by not dealing with C Players. The return on your time is staggeringly high.
Here's a simple script that you can use to set the stage: "Thank you for taking the time to visit us today. As we have already discussed, we are going to do a chronological interview to walk through each job you have held. For each job I am going to ask you five core questions: What were you hired to do? What accomplishments are you most proud of? What were some low points during that job? Who were the people you worked with? Why did you leave that job? At the end of the interview we will discuss your career goals and aspirations, and you will have a chance to ask me questions. Eighty percent of the process is in this room, but if we mutually decide to continue, we will conduct reference calls to complete the process. Finally, while this sounds like a lengthy interview, it will go remarkably fast. I want to make sure you have the opportunity to share your full story, so it is my job to guide the pace of the discussion. Sometimes, we'll go into more depth in a period of your career. Other times, I will ask that we move on to the next topic. I'll try to make sure we leave plenty of time to cover your most recent, and frankly, most relevant jobs. Do you have any questions about the process?"
Master Tactic #1: Interrupting
The bad way to interrupt somebody is to put up your hand like a stop sign gesture and say, "Wait, wait, wait. Let me stop you there. Can we get back on track?" This shames the candidate, implies that they have done something wrong, and makes them clam up for good. You will really struggle to get the person to open up after that.
The good way to interrupt somebody is to smile broadly, match their enthusiasm level, and use reflective listening to get them to stop talking without demoralizing them. You say, "Wow! It sounds like that pig farm next to the corporate office smelled horrible!" The candidate nods and says "Yes!" and appreciates your empathy and respect. Then you immediately say, "You were just telling me about launching that direct mail campaign. I'd love to hear what was that like? How well did it go?"
The I'm-really-excited-to-hear-more-about-such-and-such approach keeps the rapport high, and gives the candidate a new and more relevant topic to tell you about. It is through maintaining very high rapport that you get the most valuable data, and polite interrupting can build that rapport.
Master Tactic #2: The Three P's
How do you know if an accomplishment a person tells you about is great, good, okay, or lousy? Use the three P's. The three P's are questions you can use to clarify how valuable an accomplishment was in any context.
How did your performance compare to the previous year's performance? (For example, this person achieved sales of $2 million and the previous year's sales were only $150,000.)
How did your performance compare to the plan? (For example, this person sold $2 million and the plan was $1.2 million.)
How did your performance compare to that of peers? (For example, this person sold $2 million and was ranked first among thirty peers; the next-best performer sold only $750,000.)
Master Tactic #3: Push Versus Pull
People who perform well are generally pulled to greater opportunities. People who perform poorly are often pushed out of their jobs. Do not hire anybody who has been pushed out of 20 percent or more of their jobs. From our experience, those folks have a three times higher chance of being a chronic B or C Player.
Here is how to go about judging this. After you ask, "Why did you leave that job?" you will hear one of two answers:
1. Push. "It was mutual." "It was time for me to leave." "My boss and I were not getting along." "Judy got promoted and I did not." "My role shrank." "I missed my number and was told I was on thin ice." "I slapped the CEO so hard that I lost my $3 million severance package."
2. Pull. "My biggest client hired me." "My old boss recruited me to a bigger job." "The CEO asked me to take a double promotion." "A former peer went to a competitor and referred me to his boss."
Master Tactic #4: Painting a Picture
"You always try to put yourself in someone else's shoes. What happened in the last job? Why did that not work out? You are trying to put yourself in their shoes to understand how and why they are making decisions and handling problems."
For example, a candidate might say she is an excellent communicator. Don't assume you know what that means. Get curious to truly understand. You might learn (1) that she is an exceptional business writer who works on all of her company's newsletters and marketing collateral but (2) that she is also a terrible presenter. Both of these answers offer far more insight into the candidate than a general statement about being a good communicator.
Master Tactic #5: Stopping at the Stop Signs
One of the advantages of conducting the Who Interview in person is that you can watch for shifts in body language and other inconsistencies. An entire science has evolved to tell when people are lying. The biggest indicator, as it turns out, is when you see or hear inconsistencies. If someone says, "We did great in that role," while shifting in his chair, looking down, and covering his mouth, that is a stop sign. When you see that, slam on the brakes, get curious, and see just how "great" he actually did. There is probably more to the story than he wants you to know.
The focused interview
Getting to know more
Focused interviews allow you to gather additional, specific information about your candidate.
These interviews also offer a chance to involve other team members directly in the hiring process. Be sure to emphasize to your team that this is not meant to be another Who Interview. One time through a candidate's full story is enough. Stress, too, that everyone is to follow the script.
Focused interview guide
The purpose of this interview is to talk about ___ (fill in the blank with a specific outcome or competency, such as the person's experience selling to new customers, building and leading a team, creating strategic plans, acting aggressively and persistently, etc)
What are your biggest accomplishments in this area during your career?
What are your insights into your biggest mistakes and lessons learned in this area?
Speaking at the World Government Summit in 2017, Elon Musk admitted he asks each candidate he interviews the same question:
"Tell me about some of the most difficult problems you worked on and how you solved them."
Tough question: "
Tell me about the time where you accomplished a particularly difficult objective using team building skills and how this example was especially valuable to the entire organization

.
"
The focused interview is similar to the commonly used behavioral interview with one major difference: it is focused on the outcomes and competencies of the scorecard.
As with all of the interviews we present in this book, get curious after every answer by using the "What? How? Tell me more" framework, and keep asking until you understand what the person did and how he or she did it.
Each interview should take forty-five minutes to one hour, depending on how many outcomes and competencies you assign to each interviewer.
Focused interviews also give you a final gauge on the cultural fit.
Typical interview day
8:30 A.M.–8:45 A.M. Team meeting. Bring the interview team together for fifteen minutes at the beginning of the day (or the night before) to review the scorecard, the candidate's resume, notes from the screening interview, and roles and responsibilities for the day.
8:45 A.M.–9:00 A.M. Have a team member greet the candidate on arrival and spend a few minutes orienting him or her to the day, and possibly to the company.
9:00 A.M.–12:00 P.M. Who Interview. The hiring manager and one other colleague conduct a tandem interview that lasts one and a half to three hours, depending on the length of the candidate's career.
12:00 P.M.–1:30 P.M. Lunch. A few team members, preferably not involved in the interview process, take the candidate to lunch. We like to keep this informal—this is a pressure-packed day as it is—but if you or the candidate is pressed for time, you can continue interviewing while you eat.
1:30 P.M.–4:30 P.M. Focused interviews. One to three team members conduct focused interviews based on their assigned portions of the scorecard. (Note: Some companies conduct focused interviews as a second round of interviews only after a candidate passes the Who Interview in an earlier round. This enables them to save time if a candidate does not pass the Who Interview, but it does force them to schedule multiple interview days. Other companies do it all in one day.)
4:30 P.M.–4:45 P.M. Host thanks the candidate and explains next steps.
4:45 P.M.–5:30 P.M. Candidate discussion. Interview team convenes for thirty to sixty minutes at the end of the day to rate the scorecard and develop a list of the candidate's strengths and weaknesses based on the actual data gathered during the day. The hiring manager makes a go/no-go decision at the end of the meeting regarding whether to conduct reference calls or terminate the process.
The reference interview
Testing what you learned
You may be tempted to skip reference checks and make an offer now. Don't skip the references!
There are three things you have to do to have successful reference interviews.
First, pick the right references. Review your notes from the Who Interview and pick the bosses, peers, and subordinates with whom you would like to speak. Don't just use the reference list the candidate gives you.
Second, ask the candidate to contact the references to set up the calls. Some companies have a policy that prevents employees from serving as references. You may hit that brick wall if you call a reference directly, but we have found that you will have twice the chance of actually getting to talk to a reference if you ask the candidate to set up the interview — whether it is during business hours or after hours at home.
Third, conduct the right number of reference interviews. We recommend that you personally do about four and ask your colleagues to do three, for a total of seven reference interviews. Interview three past bosses, two peers or customers, and two subordinates.
Reference Interview Guide
In what context did you work with the person?
What were the person's biggest strengths?
What were the person's biggest areas for improvement back then?
How would you rate his/her overall performance in that job on a 1-10 scale? What about his or her performance causes you to give that rating?
The person mentioned that he/she struggled with ___ in that job. Can you tell me more about that?
Don't forget to get curious by using the "What? How? Tell me more".
Remember, a 6 is really a 2. Additionally, how does the rating compare to what the candidate said in the screening interview? Wide discrepancies are alarming. In the end, you are looking for people who consistently get ratings of 8, 9, and 10 across your reference calls. Anything lower than that is a warning flag and should be examined more closely. One 6 need not be a deal breaker if other interviewers offer higher scores. Just take the time to understand why a discrepancy exists.
"Nobody will come back to you to say that somebody is awful. But if they just confirm dates of employment, that is a bad sign. If somebody really thinks that a person is good, they're going to do more than that."
Your best defense is to pay very close attention to what people say and how they say it.
You can be fairly certain references are speaking in code when they qualify a response with the same "if…then" formulation that fooled Stacy Schusterman. When you hear that, pull out your decoder ring and get curious about what's really being said.
"The reference who hesitates with the tough question." When you ask, "How did so-and-so do?" you want to hear tremendous enthusiasm, not um's and er's and carefully chosen words. A reference who hesitates is typically trying hard not to say something that will condemn your candidate or put him- or herself at legal risk.
Neutral, ho-hum references full of faint praise are code for bad references.
A truly positive reference, by contrast, should brim with tremendous enthusiasm and obvious admiration. It will lack hesitation and hedging.
The skill-will bull's eye
The goal of the "Select" step of the A Method is to gather the facts you need to decide if somebody's skill (what they can do) and will (what they want to do) match your scorecard. This is a person's skill-will profile. When a candidate's skill-will profile matches up perfectly with the requirements outlined on your scorecard, your candidate hits the skill-will bull's-eye.
Begin by examining skill. Skill has to do with a candidate's ability to achieve the individual outcomes on your scorecard. When you believe there is a 90 percent or better chance the candidate can achieve an outcome based on the data you gathered during the interview, rate him or her an A for that outcome. When the data does not support that conclusion, give the candidate a lower rating for that outcome, such as a B or C. Repeat this process for each outcome.
Next, evaluate will. Will has to do with the motivations and competencies a candidate brings to the table. For each competency, ask yourself the same question as before. Does the data suggest there is a 90 percent or better chance that the candidate will display that competency? If so, rate him or her an A for that particular competency. Otherwise, give the candidate a B or C. Repeat the process for each competency.
An A Player is someone whose skill and will match your scorecard. Anything less is a B or C, no matter the experience or seeming talent level.
Red flags: When to dive beneath the surface
The flags themselves are not the deal killers, but they are likely to signal that there is something worth exploring beneath the surface.
Based on our experience, the major flags during the hiring process
• Candidate does not mention past failures.
• Candidate exaggerates his or her answers.
• Candidate takes credit for the work of others.
• Candidate speaks poorly of past bosses.
• Candidate cannot explain job moves.
• People most important to candidate are unsupportive of change.
• For managerial hires, candidate has never had to hire or fire anybody.
• Candidate seems more interested in compensation and benefits than in the job itself.
• Candidate tries too hard to look like an expert.
• Candidate is self-absorbed.
While none of these red flags in itself is sufficient for a thumbs-down, they do tend to correlate highly with people who, while they appear to be A Players, sink down to the B and C level once a hire is made.
In his bestseller What Got You Here Won't Get You There, Goldsmith identifies twenty behavioral derailers that can hurt an executive's career.
• Winning too much. You should beware of candidates who need to win to an unhealthy extent because they will be battling you and your colleagues over petty things.
• Adding too much value – is easy to look for. If you are talking and you throw out an idea, does the candidate try to add too many of his own ideas to yours? If so, it implies that your idea was not sufficiently good on its own. It is a small indicator of ego gone awry.
• Starting a sentence with 'no,' 'but,' or 'however' during the interview process. 'Yes, that is a great idea' is the right answer. 'No, I agree with you but' is the symptom of somebody with an overactive ego who might be challenging to work with.
• Telling the world how smart we are. The unhealthy display is taking excessive credit, especially for a leadership role. For the leader, being all about me is bad.
• Making destructive comments about previous colleagues is a huge red flag.
• Passing the buck. Blaming is always bad. Winners don't blame.
• Making excuses. Ask people what their challenges were. If they say that their biggest challenges were not their fault but other people's fault, that shows they do not take responsibility for their performance.
• The excessive need to 'be me.' Listen for comments like 'That's just me, I'm not organized.' Beware. Somebody who has an excessive need to 'be me' is telling you that they are not open to adapt their style to fit your culture or your company and should not be hired.
DECIDE WHO TO HIRE
Take out your scorecards that you have completed on each candidate.
Make sure you have rated all of the candidates on the scorecard. If you have not given each candidate an overall A, B, or C grade, do so now. Make any updates you need to based on the reference interviews. Look at the data, consider the opinions and observations of the interview team, and give a final grade.
If you have no A's, then restart your process at the second step: source. 4. If you have one A, decide to hire that person.
If you have multiple A's, then rank them and decide to hire the best A from among them.
HOW TO SELECT AN A PLAYER
SCREENING INTERVIEW: Conduct a twenty- to thirty-minute screening interview, using the four key questions. Probe for more information by using the "What? How? Tell me more" framework. Filter out obvious B and C Players from your hiring pipeline.
WHO INTERVIEW: Conduct a Who Interview of one and a half to three hours by walking chronologically through a candidate's career, using the same five questions for each job or chapter in the person's work history. The hiring manager and one other colleague should conduct the interview in tandem.
FOCUSED INVERVIEW(S): Involve others in the hiring process by assigning team members to conduct interviews that focus on the outcomes and/or competencies on the scorecard.
CANDIDATE DISCUSSION: Following each day of interviews, grade the scorecard using the skill-will framework. Advance those whose skill (what they are fundamentally good at doing) and will (what they want to do, and in what type of culture) match the mission, outcomes, and competencies on your scorecard. Look for people whom you would rate an A on the critical outcomes and key competencies. Nobody is perfect, but seek those who are strong in the most important places of your scorecard.
REFERENCE INTERVIEW: Conduct seven reference calls with people you choose from the Who Interview. Ask the candidate to set up the calls to break through the gatekeepers while minimizing your own effort.
FINAL DECISION: Repeat your analysis of the skill-will profile to ensure you still have a bull's-eye.
Sell
Five F's of Selling, Five Waves of Selling
You are not finished until your candidate becomes an employee.
The key to successfully selling your candidate to join your company is putting yourself in his or her shoes. Care about what they care about.
It turns out that candidates tend to care about five things, so make sure that you address each of these five areas until you get the person to sign on the dotted line. The five areas, which we call the five F's of selling, are: fit, family, freedom, fortune, and fun.
• Fit ties together the company's vision, needs, and culture with the candidate's goals, strengths, and values. "Here is where we are going as a company. Here is how you fit in."
• Family takes into account the broader trauma of changing jobs. "What can we do to make this change as easy as possible for your family?"
• Freedom is the autonomy the candidate will have to make his or her own decisions. "I will give you ample freedom to make decisions, and I will not micromanage you."
• Fortune reflects the stability of your company and the overall financial upside. "If you accomplish your objectives, you will likely make [compensation amount] over the next five years."
• Fun describes the work environment and personal relationships the candidate will make. "We like to have a lot of fun around here. I think you will find this is a culture you will really enjoy."
Selling fit
Fit is by far the most important point to sell. Just as you are looking for a person who can be an A Player in a role, so the best candidates are looking for roles where they can be A Players. The better the fit, the higher the likelihood of success.
Fit means showing the candidate how his or her goals, talents, and values fit into your vision, strategy, and culture. People want to make an impact in the world. They want to be needed. They want to be part of something that feels right. Selling fit means showing a candidate how all of these needs will be met when he or she works with you.
Show that you are as concerned with the fit for them as you are in the fit for you. It is a key differentiator. You will be the one who cares enough to see if there is something for them here. Everybody ellse is concerned with just finding out if there is a match for us here.
Selling family
Understanding the social and family environment an executive lives in is key to their agreeing to accept a position. If you fail to understand that, you will have an executive who drops out at the last stage of the search process.
The person who needs to be sold is never the candidate. The candidate would not be there if he were not sold. Focus on selling the spouse, children, parents and friends of the candidate. They will have a much greater role in the decision for these types of situations. The candidate will look to them for the tough call. Better have them in your camp, or you won't get the candidate.
Selling freedom
A Players have never liked being micromanaged. Nothing will scare them off faster than the prospect of working for an overly directive boss or board. They are looking for positions where they will be left alone to excel.
The problem is that offering the sort of freedom A Players demand and expect scares some executives because it makes them feel like they are giving up control. This is one of the great paradoxes of management. In reality, great leaders gain more control by ceding control to their A Players.
The role of the CEO is to inspire people, and you cannot inspire people unless you get to know them and them you. Don't cut corners on that. It takes energy.
Selling fortune
Research shows that while money can be a disincentive if it is too low or not linked to performance, it rarely is the key motivator. A raise given today is usually forgotten by tomorrow.
That doesn't mean you can ignore it. Compensation will enter the equation eventually and you can take advantage of that fact by demonstrating how a candidate would be rewarded if he or she joined your company.
"Our people know every quarter where their bonuses are. Bonuses are tied to mathematical goals with eight other goals that are easily identifiable. We have had people join our company for a lower salary because they believe in the growth."
Selling fun
We spend more than a third of our time, and propably better than half our waking time, at work. We might as well have fun while we are doing it.
Once a year we hold a company summit at a nice location such as Napa Valley or Hilton Head and invite our employees' spouses to join us.
Five waves of selling
Selling a would-be hire is a matter of understanding which of the five F's really matter to a candidate and focusing attention on those levers to overcome a candidate's concerns.
We have presented this Sell chapter as the last step in the A Method. In reality, selling is something you should be doing throughout the entire process. Like sourcing, selling requires constant attention.
The waves are:
1. When you source
2. When you interview
3. The time between your offer and the candidate's acceptance
4. The time between the candidate's acceptance and his or her first day
5. The new hire's first on handerd days on the job
The empasis on interest and talents during the sourcing process provides the first opportunity for you to gauge which of the five F's are going to matter to the candidate.
You sell from the moment you start the whole hiring process. It all starts with understanding where somebody is with their interests. It helps you spot where their hooks are, but to spot the hooks, you have to listen. "Where are you today? What is it you are really seeking?"
The questioin time at the end is when you put on your sales hat, assuming you still see potential in the candidate. By paying attention to what the candidate says during the interview, you will have a clearer idea how to frame the offer that ulitmately will aattract that person to your company.
Another opportunity to sell falls between your offer and their acceptance.
Instead of putting people in the deep freeze, assume they have received an attractive counteroffer from their current employer and are considering other options at the same time. These are A players, after all. Silence is your worst enemy at this stage.
Stay in touch with them on a regular basis. Pinpoint their concers using the five F's as your guide. Show them how much they will fit with and contribute to the company. Woo their families. Commit to giving them freedom and autonomy to do their job. Address financial concerns. And involve them in the fun your employees are already having.
We suggest celebrating their acceptance by sending something meaningful, such as flowers, balloons or a gift certificate. Make a splash. Continue to stay in touch. Keep listening for concerns related to the five F's and address them as soon as they come up.
Finally, the big day comes when your new A player joins the company. Guess what? You still aren't done selling. Research shows an alarming failure rate among new hires in the first one hundred days. People get buyer's remorse during these early months and are tempted to cut their losses. You can mitigate that risk by investiong in a strong on-boarding program.
How to sell A Players
Identify which of the five F's really matter to the candidate: fit, family, freedom, fortune or fun.
Create and execute a plan to address the relevant F's during the five waves of selling: during sourcing, during interviews, between offer and acceptance, between acceptance and the first day, and during the first one hundred days on the job
Be persistent. Don't give up until you have your A Player on board.
What types of CEOs make money for investors?
Boards and investors have a tendency to invest in CEOs who demonstrate openness to feedback, possess great listening skills and treat people with respect. Successful 57% of the time.
The second dominant profile that emerged from our analysis was of CEOs who move quickly, act aggressively, work hard, domenstrate persistence, set hight standards and hold people accountable to them. Successful 100% of the time.
Emotional intelligence is important, but only when matched with the propensity to get things done.

Ich hoffe, dass Dir meine Notizen geholfen haben. Weitere Zusammenfassungen findest du auf
GetAbstract
.
GetAbstract
bietet Buchzusammenfassungen an, auch als Hörbuch. So kannst du während eines einstündigen Workouts 6 Bücher hören! Nach 10 Minuten weißt du, ob sich das Buch für dich lohnt. Dabei geht es aber nicht nur um Geld, sondern auch um Deine Lebenszeit!
Probiere es jetzt kostenlos aus.
Und wenn du das gesamte Buch als Hörbuch haben möchtest, dann hol dir jetzt gleich dein
kostenloses Hörbuch bei Audible
. Dort kannst du dir fast jedes Hörbuch im
kostenlosen Probeabo
herunterladen.
Bildquelle: Pexels, CC0 Creative Commons
https://www.denisreis.com/wp-content/uploads/2019/09/adult-business-deal-colleague-1265902.jpg
616
855
Denis
https://www.denisreis.com/wp-content/uploads/2016/09/logo.png
Denis
2019-06-15 12:09:03
2021-10-20 07:11:41
Meine Buchnotizen – Who: The A Method for Hiring von Geoff Smart